In this walk through, we will be going through the Windows Fundamentals 1 room from Tryhackme. In this room we will learn about the fundamentals of Windows Operating System. So, let's get started without any delay.

Table of Contents
Task 1 – Introduction to Windows

Question 1 – Read above and start the virtual machine.
Done
Task 2 – Windows Editions
Question 1 – What encryption can you enable on Pro that you can't enable in Home?
Bitlocker

Task 3 – The Desktop (GUI)
Question 1 – Which selection will hide/disable the Search box?
Hidden
Question 2 – Which selection will hide/disable the Task View button?
Show Task View button
Question 3 – Besides Clock and Network, what other icon is visible in the Notification Area?
Action Center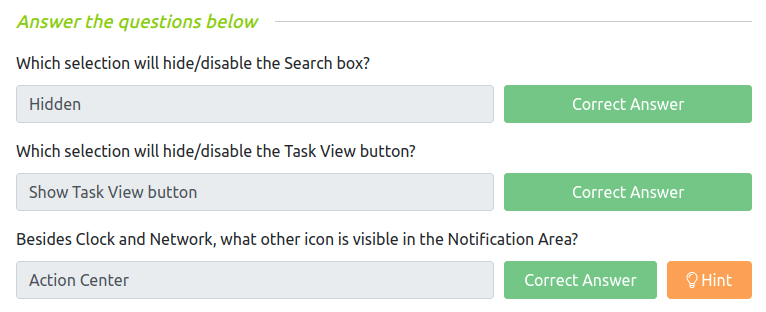 Task 4 – The File System
Question 1 – What is the meaning of NTFS?
New Technology File System

Task 5 – The Windows\ System32 Folders
Question 1 – What is the system variable for the Windows folder?
%windir%

Task 6 – User Accounts, Profiles, and Permissions
Question 1 – What is the name of the other user account?
tryhackmebilly
Question 2 – What groups is this user a member of?
Remote Desktop Users, Users
Question 3 – What built-in account is for guest access to the computer?
Guest
Question 4 – What is the account status?
Account is disabled
Task 7 – User Account Control
Question 1 – What does UAC mean?
User Account Control
Task 8 – Settings and the Control Panel
Question 1 –In the Control Panel, change the view to Small icons. What is the last setting in the Control Panel view?
Windows Defender Firewall

Task 9 -Task Manager
Question 1 – What is the keyboard shortcut to open Task Manager?
Ctrl+Shift+Esc
Task 10 – Conclusion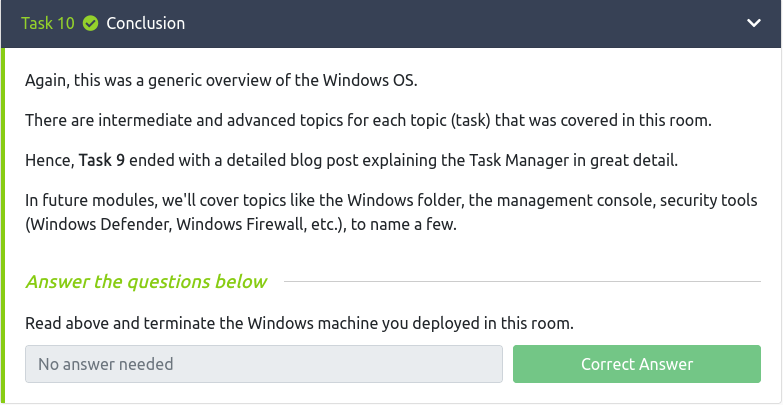 Also Read: Tryhackme – What is Networking?
So that was "Windows Fundamentals 1" for you. We have learned about the fundamentals of the Windows, its Editions and Desktop GUI. Then, we looked into File System, User accounts, profiles and permissions in Windows. Moving on, we learned about user access control and Settings in Control Panel. At last, we looked into Task Manager and concluded the room. This is a part of a three parts series on Tryhackme and i will be covering all of them. On that note, i will take your leave and will see you in next one, Till then "Hack the Planet".